Shipping since 1897
Bore has long traditions in shipping, and today's business is focused on flexible solutions to our customers cargo transportation requirements
Bore's values and solid foundation in the shipping industry, reflects the long traditions since 1897.
Bore has evolved from being in the passenger shipping to RoRo tonnage providing, with a current fleet of RoRo vessels to meet the various cargo transport requirement in our customers trade.
The evolvement towards RoRo cargo operations started when Bore entered cargo services in 1924. In 1967, Bore introduced the first aft ramp RoRo vessel in Finland.
Today, Bore's mission is to be a trustworthy corner stone in the development of our customers' business within their specific trade to stand as Your Partner in Shipping to our charterers.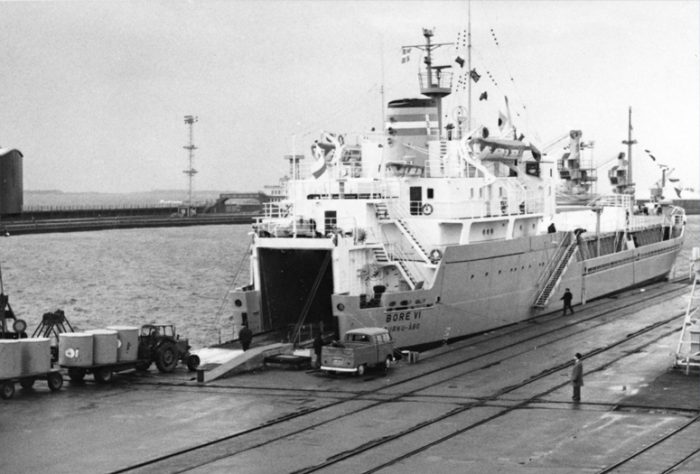 Historical Milestones
1897
Bore Steamship Company was founded in 1897. Its first ship S/S Bore, built for year around traffic between Turku and Stockholm, was delivered in 1898.
1924
Bore started cargo service trade from Finland in the Baltic and the North Sea area.
1926
Finland – South American Line was opened. Bore sailed this line for 30 years.
1958
Finnish Steamship Company, Rederieaktiebolaget Svea and Bore founded Silja Line for passenger service between Finland and Sweden.
1967
Bore introduced the first aft ramp RoRo vessels in Finland.
1980
Bore left passenger shipping, with a focus on cargo ships only. Bore King and Queen were delivered.
1987
Bore merged into the Rettig Group. Bore continues line operations with the focus on owning and managing ships.
1991
Rettig and Finnlines agreed a transfer of the Bore Line operations to the Finnlines Group.
1999
M/V Norsky and Norstream were delivered from Aker Finnyards, Rauma, FInland.
2007
Bore, Engship and BHC are merged into a new ship-owner: Rettig Group Ltd Bore Ship owning Company.
2011
Bore was incorporated as Bore Ltd. New investments in RoFlex ® vessels, M/V Bore Sea and M/V Bore Song were delivered from Flensburg, Germany.
2015
Bore decided to focus on RoRo-tonnage providing under Finnish flag.
2016
Bore was acquired by the Spliethoff Group.
2017
Bore Sea and Bore Song were flagged to NL flag.
2019
Bore signed a new-building contract with Wuhu Shipyard Co.Ltd in China for three (3) new LNG-powered RoLo vessels to be built during 2022.
2022
New investments in RoLo vessels, M/V Bore Way was delivered from Wuhu Shipyard in China.